Club Magnolia is Proud to Announce the 2015 Masters Tournament
Celebrity Chef Line-up and Club Culinary Team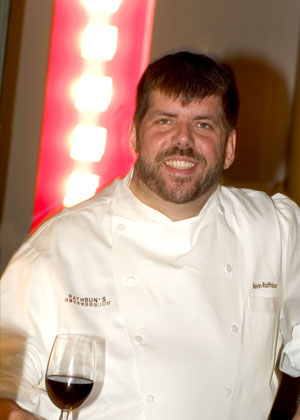 Kevin Rathbun
Rathbun's
After thirty years in the restaurant business working and learning from others, in 2004, Kevin Rathbun opened his namesake restaurant, Rathbun's, then Krog Bar (2005), and then Kevin Rathbun Steak (2007). And today, Kevin continues to be a pivotal and driving force in the local and national restaurant scene.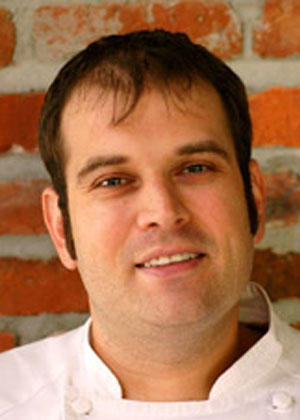 Matthew Basford
Canoe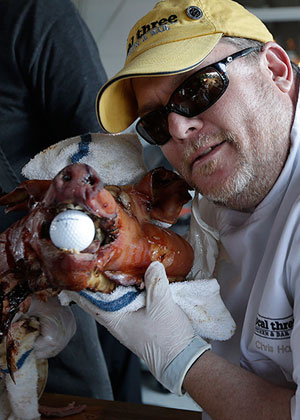 Chris Hall
Local Three Kitchen & Bar
As a teenager Chris began working at Pizza Hut on Collier Road in Atlanta. Then off to college and a job at the famous Lec Bec Fin in Philadelphia, where he learned to cook by the likes of who Chef Hall endearingly calls "an angry Frenchman". Soon after heading back to Atlanta, he landed at Canoe restaurant on the river front. Now proprietor of Local Three, Muss and Turner's and Common Quarter, when he is not in the kitchen Chef Hall can definitely be found on a golf course.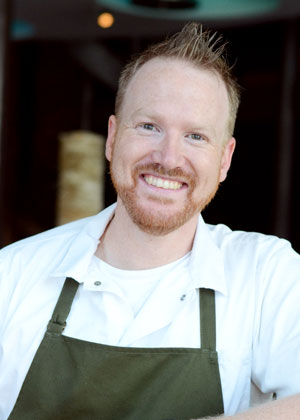 Craig Deihl
Cypress
Born & raised in Danville, Penn., Chef Craig Deihl grew up in a quintessential American household, where every evening dinner was on the table by the time his father was home from work. His mother, an "unbelievable" cook, graced the family's table with homespun meals—a ritual which remains to be one of the biggest influences he has had as a chef.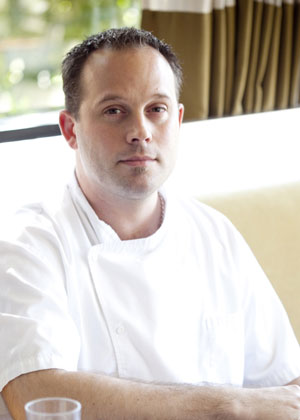 Chef Drew Van Leuvan
Seven Lamps
As executive chef of Seven Lamps, Drew Van Leuvan oversees all aspects of the restaurant including supervising culinary development and ensuring the kitchen is operating at its peak performance on a daily basis. With close to 20 years of culinary experience to draw from, his goal is to have Seven Lamps recognized among Atlanta's best restaurant and bar programs and to bring a neighborhood establishment to the Buckhead restaurant scene.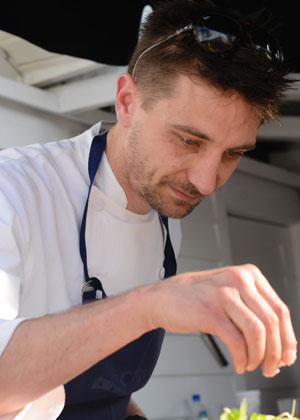 Tyler Williams
Tyler Williams is one of Atlanta's most creative chefs. He was named Chef of the Year by Eater Atlanta twice, recognized as a 2012 Atlanta Rising Star Chef, and voted by his peers Best Chefs America for three years running.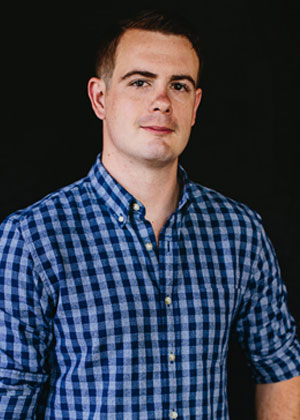 Joey Ward
Gunshow
An artist and lover of cooking shows from a very young age, Joey Ward set his sights on the Culinary Institute in Hyde Park, New York, and after graduating landed a job as sous chef at the St. Regis Atlanta, then on to work beside Bravo "Top Chef" alum, Kevin Gillespie, at the Woodfire Grill. His next stint as executive chef at H. Harper Station lead him back to a unique partnering of the combined talents of the extremely creative tag team - Chefs Gillespie and Ward to open the new, innovative and exciting restaurant concept, 'Gunshow". In 2014, Chef Ward was named one of Zagat's 30 Under 30 of people redefining the hospitality industry.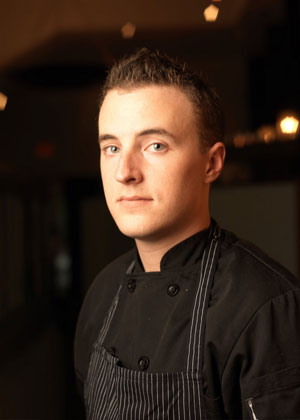 E.J. Hodgkinson
King + Duke
Before becoming the executive chef at JCT. Kitchen & Bar, E.J. Hodgkinson crisscrossed the country, polishing his culinary chops at luxury resorts, cafés and the Texas Culinary Academy, Le Cordon Bleu. Hodgkinson's comfort in the kitchen came easy, as he watched his mother and grandmother turn fresh, local ingredients into fulfilling and nourishing meals. The 29-year-old California native aims to rocket King + Duke to the national acclaim it deserves.
Club Magnolia In-House Culinary All Stars
Club Magnolia has an all star team of specialized culinary professionals responsible for the daily operation of the varied food experiences located throughout the resort such as the Fairway Buffet, The Magnolia Club Bar and Grill, Smoked Pit BBQ, Wood Fired Pizza in the Beer Garden, the Oyster Bar and more. All geared to provide the perfect sanctuary for enjoying the Masters experience.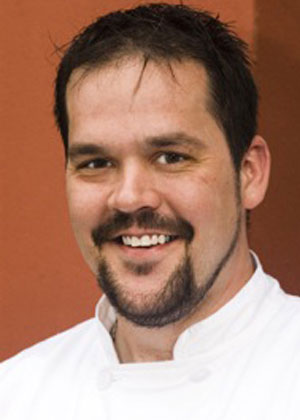 Chef Jeffrey McGar
Culinary Director
Chef Jeffrey McGar was born and raised in Upstate New York and has been working toward mastering the culinary arts since the age of fifteen. Chef McGar has 24 years of management and chef experience in every aspect of the restaurant industry. Initially working in small Italian eateries and pizza parlors progressing to "American-style" casual corporate restaurants, then on to fine dining and white table service. Moving to Atlanta in 1997, Chef McGar continued his education at Cherokee Town & Country Club, where he began a rigorous apprenticeship program mentoring under American Culinary Federation's, Certified Master Chefs.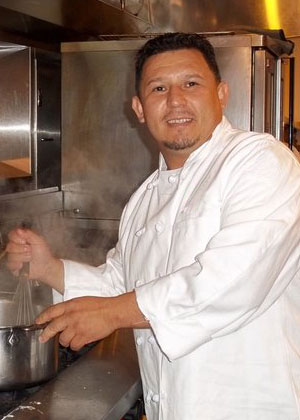 Chef Bladimer Pocasangre
Fairway Buffet
This talented chef received all of his training between his mother's kitchen in Guatamala and Chefs Wolfgang Puck and Lee Hefter and not in the academic culinary classroom. At Spago he cooked for the likes of Sylvester Stallone, Michael Jackson, and President Bill Clinton, then on to catering at the Kodak Theater for the Oscars and the Grammys, and the world's largest Aquarium, the Georgia Aquarium in Atlanta. He also competes in many competitions and donates his time to events for the Latin American Association.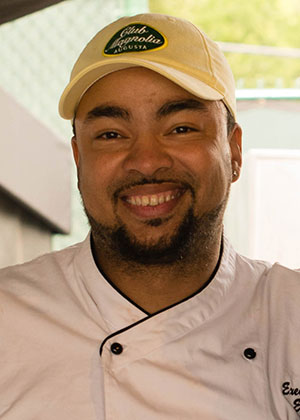 Chef Edward Knipe
Club Magnolia Bar and Grill
Returning each year since 2007, Ed Knipe will be bringing his culinary talents back to Club Magnolia yet again. A young chef who started out as valedictorian of his Pennsylvania culinary class, Chef Ed served the likes of President Bush, many celebrities and sports figures and has worked such prestigious events as Super Bowl, Nascar, Daytona 500, and the US Open Tennis on the traveling catering team for the Sports Entertainment Division of Compass Group International.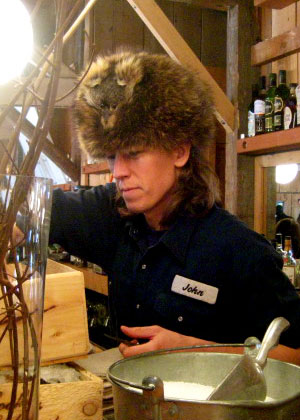 Chef John Bil
The Oyster Bar at the Magnolia Greens
Cited by the New York Times as one of Edwards Islands' "shellfish shamans" and named one of Canada's "food mavericks", Club Magnolia is proud to have John Bil christen the new Club Magnolia Oyster Bar. He is three time Canadian Champion Oyster Shucker, two time North American Shucking Champion, and first place winner at the World Invitational Oyster Shucking Championship. This 20+ year seafood veteran and famed shucker will be featured at Club Magnolia Thursday thru Sunday of Masters week.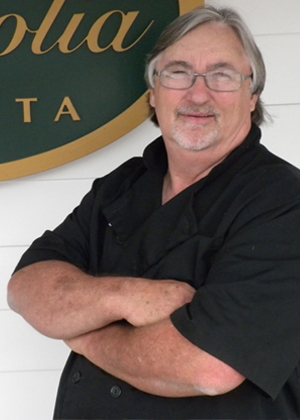 Chef Bill Macky
Chef Bill's Smoked Pit BBQ at Pat's Birdie Bar
Club Magnolia has been home to this expert grill master extraordinaire since the 2007 Masters. Augusta born and bred, Bill has spent his life sharing and honing his southern influenced recipes, many coming from his kettle pot cooking swamp living dear friend, famed naturalist and ballad musician, Okefenokee Joe. Bill's greatest joy is to make guests smile over his special creations. Those returning and anyone lucky enough to be at Club Magnolia this year, are in for a memorable bar-b-que experience. Featured Wednesday thru Sunday.