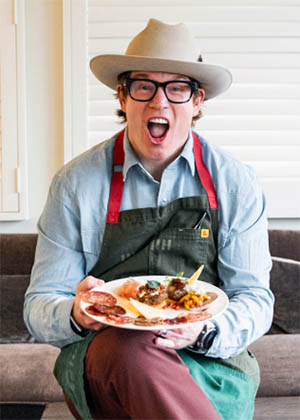 Chef Kevin Ouzts
The Spotted Trotter Charcuterie
I was fortunate enough to be influenced in food by my entire family. My Mother, who was an amazing cook, would have elaborate dinner parties that filled the house with bouquets of flavorful aromas that have stuck with me forever. She was influenced by classical French cooking and was always pushing the envelope to offer her guests cuisine that was both unique and a challenge to her. On the other hand, my Southern influence came from my Grandmother in the dinners and special holiday gatherings she had at her home in Decatur, Georgia. There was always a bounty of southern goodies at every celebration and everything was homemade – the meats, the smorgasbord of fresh vegetable dishes, and all of the pickled and canned goodies.
My first memory of the business I am now dedicating myself to came from my father, who was also an amazing cook. He introduced me at a young age to the wonderful world of cured, salted, and smoked meats – even building by hand a huge brick pit smoker in our yard; complete with a pulley and lever attached to a giant steel trap door at the top to regulate the powerful flumes of hickory smoke. It was a castle that awed me and captivated my attention in the world of smoked food. At the impressionable age of 9, I first had the privilege of experiencing some of the finest classical charcuterie that was brought home from trips to Louisiana– Tasso Ham, Head Cheese and one of my favorites, Andouille.
Current: Based on the description above, you'd think my path to a career in food was straight and quick. To the contrary, it was only after graduating from the University of Georgia with a degree in Telecommunications and a brief stint in Corporate America that I came back to food. Moving from job to job in the big business world, I quickly found it was not for me. My happiest moments during that time were after work and on the weekends, cooking for friends and family just as my Mother had done when I was a child. During my childhood, food and cooking were the first two things I can remember that bestowed confidence in me. As a kid, I was determined to always create something that was truly enjoyed, and to see the smiles and satisfaction that my cooking could create left me with the greatest feeling in the world. It should have come as no surprise that I would always came back to food. I had worked in restaurants my whole life, beginning at the age of 12 when I started working for my mother at her restaurant in downtown Atlanta. In the back of my mind, I knew cooking was my first love, and the opportunity I could and should always come back to.
After moving back to Atlanta, I was soon married to my beautiful wife Megan, who convinced me to follow my heart and gave me the chance to make my dreams of cooking professionally a reality. I enveloped myself into the world of food at Le Cordon Bleu. During my time in school, I worked for Chef Sean Doty and then for Chef Linton Hopkins at Restaurant Eugene. During school and working under the Chef Hopkins, I quickly discovered what part I wanted to play in the complicated culinary landscape. I was taken over by a newfound interest – the importance of, yet lack of, honesty in America about our food supply and where our food comes from. We've come so far, only to be so far away.
Charged with passion, I started the painstaking journey to impress upon my institution the importance of true food – food that comes directly from the land, sustainable, with just practices and most importantly, directly from our amazing, small-scale farmers who are working so hard to stay alive in the ever-growing shadow of agribusiness. During this time, I created the first Slow Food Convivia in Georgia at Le Cordon Bleu and was nominated to represent the city of Atlanta as a delegate chef in Torino, Italy at The Slow Food International Terre Madre Conference. It was impossible for Italy and its food traditions not to leave a profound impression on me. I came back even more inspired, and, thankfully, I came back to Restaurant Eugene, where I was lucky enough to continue to learn with someone who also had the same passion for the mastery of techniques, farm-raised ingredients, and food traditions. Under Chef Hopkins and his Chef de Cuisine David Bies, I furthered my understanding of the chef's responsibility for creating food the RIGHT way.
After graduating early, with honors at Le Cordon Bleu, I had quickly moved up the line at Eugene to the position of Sous Chef. There for three-plus years, I made the difficult decision to take an educational leave of absence in 2009. I briefly relocated to Northern California to pursue an independent externship at The French Laundry in Yountville, CA, and it was there that I discovered an elite kingdom where "anything in food is possible". Although grateful for the opportunity to work with Thomas Keller at one of the finest restaurants in the world, it was actually my experience at a small husband- and wife-owned charcuterie house in Napa that helped develop my direction in food . At The Fatted Calf, I had the incredible opportunity to work and learn under Chef Taylor Boetticher, who taught me the fine art and detailed world of production Charcuterie –as a native of Atlanta and the South, I discovered that this is a world that the city of Atlanta has never truly had the opportunity to embrace.
Although I have always known that my life should be in food, it was my time at The Fatted Calf that showed me another opportunity to learn and sharpen my ability in the world of food. The Spotted Trotter is exactly that, and it is my sincere hope that with my efforts I am able to show Atlanta some of what they've been missing in the world of charcuterie.
Chef Ouzts now brings his talent and skillset to produce a five-star, resort-style - Masters Tournament experience at Club Magnolia Hospitality on Magnolia drive in Augusta.