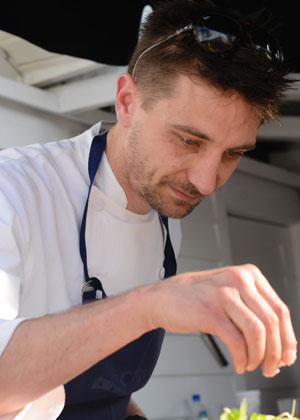 Tyler Williams
<
As one of Atlanta's premier farm to table chefs, it seems fitting that Tyler Williams' hometown of Okemos, Mich. was originally a farming community. Growing up, Williams was introduced to ethnic foods early on through Arabic and Lebanese friends, which encouraged him to seek out new culinary experiences.
After studying cultural geography at Arizona State University, he decided to enroll in the Western Culinary Institute. Once Williams completed his degree, he headed to Portland, Ore. where he rotated menu leadership at Genoa with two other chefs. In 2005, Williams moved to Chicago. While there, he gained front of the house experience at Chicago Rising Star Chef Homaro Cantufs Moto restaurant, worked with Graham Elliot at his eponymous Michelin star restaurant and developed his own playful, global technique as chef de cuisine at Gemini Bistro.
In the summer of 2010, Williams ventured to Atlanta to become sous chef at Anne Quatranofs Bacchanalia. Recognizing his talent, Quatrano soon promoted him to executive chef at Abattoir. During his time at Abattoir, he was named "Chef of the Year" by Eater Atlanta and was recognized as a 2012 Atlanta Rising Star Chef. While at Woodfire Grill, Williams has been named the 2013 Eater Atlanta "Chef of the Year" for the second consecutive year. Tyler is now in the process of opening his own highly anticipated restaurant.
What happens when two time eater Atlanta chef of the year, Tyler Williams, teams up with Justin Wines to puts his creative spin on steakhouse classics? You get the ultimate steakhouse four course dinner perfectly paired with big red wines. The Red Dinner by Chef Williams is part of the Club Magnolia dinner series, Magnolia Nights. See the Magnolia Nights Dinner Series page for more detail and to secure a seat. Tyler will also be serving tacos Wednesday - Sunday at the Gimme Tacos Bar on the Magnolia Deck. See the menu below.
Gimme Tacos Menu
Ancho-Guajillo Braised "Chicken Tinga" Tacos
"Beef Barbacoa" Tacos with Caramelized Shallots & Salsa Rojo
Grilled Shrimp 'n Chorizo Tacos
Spicy Avocado-Salsa Verde, Black Bean-Tofu and Chipotle Lime-Arugula Tacos
Corn & Cotija Cheese Tacos
Chef Tyler's Links: