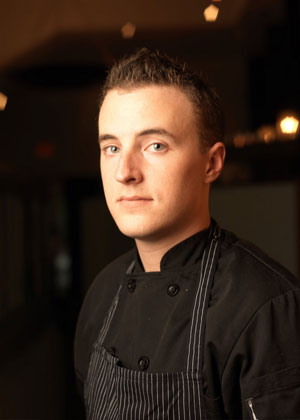 EJ Hodgkinson
King + Duke
Executive Chef E.J. Hodgkinson has been immersed in a vibrant culinary culture for half of his life. The Placerville, California, native began cooking professionally at the ripe age of 14 in a neighborhood coffee shop. It was during this chef-driven childhood that Hodgkinson developed his appreciation for locally sourced ingredients, observing his grandmother canning the tomatoes grown in her lush California garden.
"My grandmother taught me the art of preservation and the concept of farm-to-table long before it was cool or a cliché," says the family-oriented chef who could cook an egg at the tender age of 6. "I fell into cooking comfortably."
Once he finished high school, the adventurous spirit headed to Idaho, polishing his culinary skills at the posh Sun Valley Resort, a luxury travel destination teeming with celebrities seeking refuge and anonymity. Chef Hodgkinson continued with his training in Ashland, Oregon, where he kept beat to a high-paced rhythm at a cozy restaurant which catered to the Shakespeare festival that attracts 1.8 million people annually.
At only 21 years old, Hodgkinson was named executive chef at Tomei's, a hip restaurant in his historic hometown, which is famous from the Gold Rush days. He says that "to take the next step I had to take a step back," so he enrolled in Texas Culinary Academy, Le Cordon Bleu in Austin, Texas. Graduation landed him the sous chef position at 34th St. Café, where fresh, locally sourced food was the focus.
Chef Hodgkinson's love affair with the South blossomed when he moved to Atlanta. He sought out chef positions with premium restaurants, and caught the attention of Bravo's Top Chef luminary Kevin Gillespie, who was at the helm of Woodfire Grill's kitchen at the time. Hodgkinson shot up to chef de cuisine within four years at Woodfire Grill.
"Kevin played an integral role in helping me appreciate southern cuisine," says Hodgkinson, who confesses he used to think grits played second fiddle to polenta. "I quickly learned it was the other way around," he says, adding that, "Southern cuisine is the richest and most fulfilling in America because of the history and heritage behind it."
Perhaps what has made the deepest imprint on the chef's heart is how the southern family values its meals around the table, which reminds him of his own family back in California.
"Sitting down with your family every night and eating dinner together is how I grew up, but it's not the norm in California," he says. "It seems to be the norm in the South, and it's one of the reasons I feel so at home here."
The chef's expansive knowledge of sourcing the freshest ingredients and layering their flavors into perfection led to a call from Chef Ford Fry in the fall of 2012, inviting him to become part of the JCT. Kitchen & Bar family. As executive chef of the lauded dining destination known for its down-home gourmet style, Hodgkinson revels in employing the proper, fundamental techniques to bring out the best of each ingredient and letting each component speak for itself.
"One of my favorite things about JCT. is the friendly, comfortable experience offered from start to finish," says Hodgkinson. "I like people to feel like they've come into my home and had an amazing meal, accompanied by great, not-too-intrusive service and incredible drinks."
The ambitious chef has set his sights on countrywide acclaim for JCT. Kitchen & Bar. His goal is elevating the level of cuisine without becoming pretentious, continuing to make it a fun place at which to dine and experience food.
"My aim is to execute a very high level of food in a format which people can enjoy and still keep it approachable," he says, noting that the southern focus situated in comfortable yet refined environs is what's kept it such high regard with Atlanta's foodie community. "There's a reason it's been here for seven years. I aim to just make it better. I would like to take JCT. to the national realm of recognition. Ford knows I've always had my foot on the gas."
Gifted Chef E.J. Hodgkinson of the popular Atlanta eatery, King & Duke, along with his favorite micro brewery, Sierra Nevada, will team up to present the best possible brews with the chef's finest culinary offerings. This amazing dinner will "tap" into the best beer aficionado and a dining experience fit for a king, only during this year's Masters Golf Tournament in Augusta, GA. See the Magnolia Nights Dinner Series page for more information.