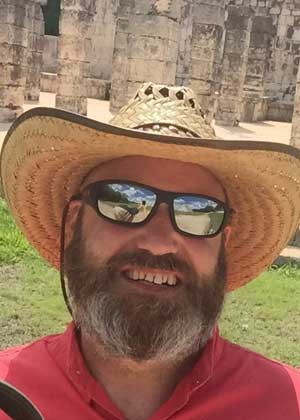 Chef Angus Daunt
Parker's on Ponce Steak House
One must assume that with a name like Angus, it can only be destiny that he would end up the Executive Chef of a steakhouse. Born in Savannah (because Statesboro didn't have a hospital), Angus Daunt grew up a true Southern boy in his childhood years in Brunswick, Georgia: sweet tea drinking, red meat-loving, Church on Sunday – not that he had a choice, being the son of an Episcopal minister. Eventually the family moved to Avondale Estates, where Angus' father would serve as the minister of Holy Trinity Parish in Decatur.
At 16 years old, Angus moved to Baton Rouge. After graduating high school, he went on to "serve" a short stint at Ole Miss. Angus quickly decided that wasn't the right place for him; he went back to Baton Rouge and found a no-experience- required cook position at Dajonel's, a French restaurant. He earned his chops there and at several other restaurants, including the famous Copeland's of New Orleans, before heading into the country club circuit.
Angus returned to Atlanta in 1998. Most recently, he spent the past four years being mentored by the incredibly talented leaders of Local 3 and Muss & Turner's. He married his lovely wife Christy in May of this year. When he is not working, Angus enjoys spending time with his new bride and her 15-year-old son, Candler – as well as Snickers (the fetching Chihuahua), and Dr. Peter Burns (the cat). On sunny days, you'll find Chef Angus putting in some miles on his beloved motorcycle. But most days, you'll find him in the kitchen here at Parker's on Ponce, making sure every steak is grilled to juicy perfection.
Chef Angus now brings his talent and skillset to produce a five-star, resort-style - Masters Tournament experience at Club Magnolia Hospitality on Magnolia drive in Augusta.