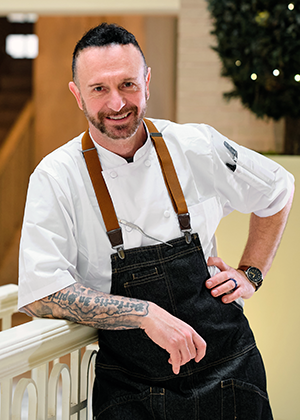 Greek-born chef Steven Meese is beloved as the host of the PBS series "A Chef's Journey," an experience that took him across the United States interviewing and cooking with some of the country's top culinary personalities.
Meese started his culinary training at some of Walt Disney World's top fine-dining restaurants in the 1990s, working with acclaimed chefs like Scott Hummel, Reimund Pitz and Darryl Mickler. As his talents evolved, he cooked at prestigious restaurants like Café Boulud in Palm Beach, Florida, Alinea in Chicago and Jean-Georges in New York City, training under Michelin-starred chefs Daniel Boulud, Grant Achatz and Jean-Georges Vongerichten.
In 2018, Meese accepted an opportunity to work in Europe under the guidance of chef Jason Atherton. He joined the team at the Betterment, Atherton's restaurant located inside London's Biltmore Mayfair Hotel. Meese benefited from the experience of working under Atherton, who operated his restaurants based on knowledge gained from training under world-class chefs Ferran Adria, Marco Pierre White and Gordon Ramsay. Together with chef Paul Walsh, Meese and Atherton created unique seasonal menus that brought the Betterment rave reviews.
In 2020, Meese returned to the United States where he took over as head chef at the Resort at Paws Up in Greenough, Montana, where he connected with chef Sunny Jin and learned about incorporating Japanese ingredients and influences into his cuisine. After a successful tenure working with Jin, Meese went to Chicago to work at the world-renowned Homestead Room, the first restaurant opened by acclaimed chef Grant Achatz that crafted the culinary styles of many industry leaders like Rick Tramonto and Gale Gand.
Currently based in Atlanta, Meese is chef de cuisine for Livingston Restaurant + Bar, a dining institution located inside the historic Georgian Terrace hotel. He works under the guidance of The Georgian Terrace executive chef Fred Gilbert, who was an executive chef for Wolfgang Puck. Together, they are well-connected in the Atlanta food scene, working with local farmers and suppliers to source the best ingredients and building a team that strives to optimize the guest experience.
His innovative menu for Livingston is derived from a fusion of European sensibilities, Asian flavors and Southern dishes. Influences from Meese's Mediterranean heritage and classical culinary training infuse French, Italian, Spanish and Japanese flavors with classic Southern food while utilizing creative techniques like foams, fermentation and smoking.
Meese lives in Atlanta with his wife Heather Gaut and his two stepsons Lincoln and Liam.