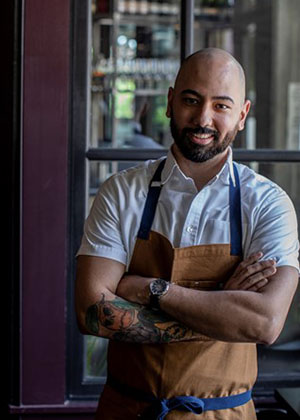 A native Puerto Rican, Josue Pena recalls first falling in love with cooking while working at a local Italian establishment Pembroke Pines, FL when he was 15. Though he started as a busboy, he quickly recognized his admiration for the culinary side of the business, convinced the owner to transfer him to the prep line & the rest is history.
After graduating from Le Cordon Bleu College of Culinary Arts in Miami, Josue harnessed his Spanish roots & began his journey through Miami's culinary circuit, honing his skills within the kitchens of various restaurants and five-star hotels & resorts including The Forge, La Gloutonnerie and Faena Hotel Miami Beach where he spent time working his way from sous chef to chef de cuisine. In 2018, Josue embraced a newfound Southern hospitality mindset & relocated to Nashville where he spent 1 year as Capital Grille's chef de cuisine at Music City's acclaimed The Hermitage Hotel. It was during his time in Nashville where he first learned to merge his heritage with southern ingredients & flavors to produce locally sourced, refined & approachable food. Soon after, Josue moved to Atlanta to join The Iberian Pig Buckhead team where he served as chef de cuisine before his promotion to executive chef in 2021. Rounding out a full circle career, Josue feels at home with the restaurant's authentic Spanish roots and is excited to continue to immerse himself with the Atlanta community and the Southern state of mind he has grown to love.
Outside of the kitchen, Josue enjoys hitting the gym, staying active outdoors, and finding new places to dine around town.