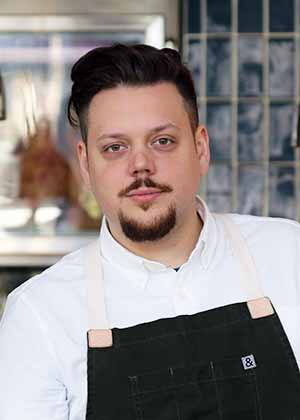 Chef Brandon Chavannes
St. Cecilia
A second-generation immigrant of both Jamaican and Norwegian heritage, Brandon Chavannes' exposure to various, food-centric traditions was quite broad from an early age. He credits his admiration of the craft to his mother's deft cooking and his parents desire to gather around the table each day as a family.
The culture of food deeply engrained in him, he eventually followed his passion to New York City, where he spent much of his formative cooking years. While working at April Bloomfield's John Dory, he would often sneak into Del Posto's adjoining kitchen as he became more and more captivated by the craftsmanship of Italian cuisine.
Chavannes toured through heralded New York institutions (from Bar Boulud and the Standard Grill to the Russian Tea Room), and eventually ventured back to the southeast to hone his skills at Lure, Marcel and Moto Cucina + Enoteca before returning to the Ford Fry family as chef de cuisine of King + Duke and now leading the team at St. Cecilia. Along the way, he's been touted with nominations and awards from various food publications including Zagat, Thrillist and Eater.
What distinguishes St. Cecilia isn't just the chef's well-seasoned palate for seafood and Italian cuisine. For Chavannes it's about individual ingredients. He shares, "When you have one ingredient at its absolute best, it generally seems futile to attempt to make it better. Our aim in the kitchen is to be of service to the ingredients we put on the plate."