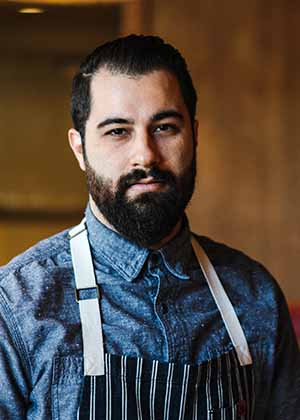 Chef Andrew Isabella
BeetleCat
European tradition and an ardor for sport fishing meld in Andrew Isabella: as executive chef for Ford Fry restaurant BeetleCat, Florida-native Isabella shapes globe-straddling recipes into the restaurant's shore-style, seafood-focused menu. His outdoorsman's knowledge of coastal and fresh waters deems him a perfect fit for BeetleCat. Isabella was named to Zagat Atlanta's celebrated Top 30 Under 30 list and his lobster roll was named "Best in the Country" in 2018.
He graduated from Keiser University with a degree in culinary arts, interning with Wolfgang Puck's Catering at the Georgia Aquarium along the way. After culinary school, Isabella worked at Table 1280 at Atlanta's cultural mecca, the Woodruff Arts Center. Under Bravo Top Chef contestant Tracey Bloom's tutelage, Isabella refined his American cuisine technique - and when Bloom went on hiatus to film Bravo's Top Chef, Isabella was tapped for the position of sous chef.
Isabella returned to his home state in 2010 and became sous chef at the acclaimed Winter Park hotspot LUMA on Park, where he remained until the fall of 2012. When Isabella yearned to get back to Atlanta, LUMA executive chef Brandon McGlamery, close friends with co-owner and executive chef of no. 246 Drew Belline, connected the two. "I fell in love with no. 246," Isabella said "Drew took me right in."
As Fry set to open nostalgic, French-inspired, beefsteak-heavy Marcel on Atlanta's Westside, Isabella was tapped to help open the 136-seat, glamorous restaurant, infusing it with his brand of European-style expertise. With Marcel's success, Fry looked to Isabella to lead the company's next venture: Isabella serves as executive chef for BeetleCat, the hotly-anticipated sister restaurant to Fry's successful venture on Atlanta's westside, The Optimist. Isabella's offerings include wood-roasted crab, octopus, clams, and more, with many dishes served a la plancha. Small plates will be big on flavor, encouraging patrons to mix and match, share, and try a sampling of menu bites.