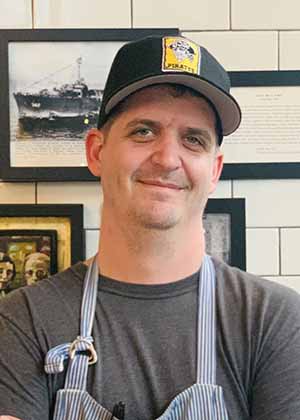 Chef Brandon Bailey
The General Muir
Brandon Bailey started out in the restaurant industry working at fast food restaurants and a few bars. What really jumpstarted his path to becoming a chef was working with Joe Truex and Mihoko Obunai at Repast from 2006 to 2010. After they closed their doors, Bailey decided to moe to NYC to gain more experience. He was there for five years working with great chefs such as Seamus Mullen at Tertulia and Daniel Boloud at Restaurant Daniel.
In 2015, Bailey moved bck to Atlanta and started working with Billy Allin as Chef di Cuisine at Cakes & Ale and then as Executive Chef at Bread & Butterfly.
The next move was a little more complicated and certainly very exciting! Bailey was contacted by Marcus Samuelsson to help open Red Rooster in London and after spending 10 weeks there he was offered the corporate chef position in Harlem. He spent a year working through Samuelsson's restaurants.
Bailey and his wife decided to move back to Atlanta in 2018 because it is where they feel most at home. Bailey joined the team at The General Muir as executive chef in late 2018.