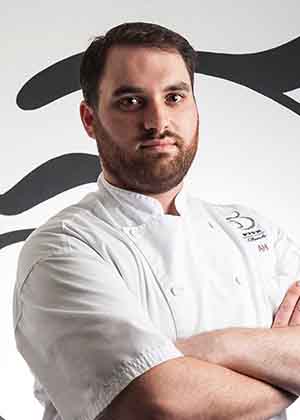 Chef Adam Hodgson
5Church Charleston
Executive Chef Adam Hodgson has been in the food and beverage industry for the past 16 years. He received his culinary arts degree from Johnson and Wales University (JWU) in 2005 in Charleston. After school, Hodgson landed a position in Charlotte at Patou French Bistro where he quickly worked my way up to a sous chef role.
Hodgson built his knowledge of the farm-to-table movement and snout-to-tail utilization at Roosters Wood Fired Grill Charlotte and A Nobile Grill Winston-Salem. Within the time spent at Roosters and Nobles, he was a part of their growing charcuterie program learning to cure meats and make salami.
In 2007 Hodgson moved west to get a feel for large game working with elk, bison and rattlesnake at The Fort restaurant in Morrison, Colo. In 2009, Hodgson returned to Charlotte to re-join the Roosters and Nobles team as a sous chef and participated in the opening of the uptown locations of Kings Kitchen (non-profit charity restaurant) and Roosters second location. Through this process Hodgson moved around to the restaurant's other locations in South Park as well as Nobles in Winston Salem as the company's executive sous chef working under Chef Joe Kindred.
Hodgson heard about 5Church when in the works and having knowledge of Chef Jamie Lynch's talent with food, he felt the call to get on board. Within no time he moved up the ranks working in all locations as expansion happened. Now Hodgson has returned to his culinary roots as the Executive Chef at 5Church Charleston. During his time at 5Church, he has participated in fundraisers for the Make-A-Wish Foundation as well as the Levine Children's Hospital.